WHAT IT IS & WHAT'S INCLUDED
WHAT IT IS
2-step natural treatment for rosacea, packed with hydration-boost, nutrient-dense, vitamin-rich, nourishing, and barrier-strengthening ingredients.
WHAT'S INCLUDE
1x Soothe & Rescue Mild Cleanser
WHAT IT'S GOOD FOR
INGREDIENT LIST
SOOTHE & RESCUE MILD CLEANSER
Aloe Vera Juice, Colloidal Oatmeal, Calendula Extract, Oat Extract, Cucumber Extract, Chamomile Extract, MethylSulfonylMethane (MSM), Caprylyl/Capryl Glucoside, Decyl Glucoside, Organic Glycerin, Glyceryl Caprylate/Caprate, Arnica Oil, Hyaluronic Acid, Hydrolyzed Oat Protein, Jojoba Oil, Lauryl Glucoside, Olive Oil, Phenoxyethanol, Potassium Sorbate, Sodium Benzoate, Sodium Lauryl Lactylate, Aqua/Purified Water
REDNESS RELIEF CREAM
Purified Water/Aqua, Organic Aloe Vera Juice, High Oleic Safflower Oil, Virgin Shea Nut Butter, Vegetable Glycerin, Glyceryl Stearate, Cetearyl Olivate, Sorbitan Olivate, Avocado Oil, Cetyl Alcohol NF, Hyaluronic Acid Liposomes, Hydrolyzed Oat Protein, Avena Oat Extract, Colloidal Oatmeal, Golden Jojoba Oil, Meadowfoam Oil, Amaranth Seed Oil, MethylSulfonylMethane (MSM), Xanthan Gum, Neroli Oil, Marshmallow Root Extract, Nettle Extract, Feverfew Extract, Witch Hazel Extract, Pumpkin Seed Oil, Olive Squalane, Avena Oat Oil, Rosehip Seed Oil, Lavender Oil, Ascorbyl Palmitate (Vitamin C Ester), Potassium Sorbate, Vitamin E Mixed Tocopherols, DL-Panthenol (Vitamin B5), Niacinamide (Vitamin B3), Sandalwood Oil, Helichrysum Oil, Hexylene Glycol, Phenoxyethanol, Caprylyl Glycol, Rosemary Oleoresin
HOW TO USE
Step 1: Soothe & Rescue Mild Cleanser - Wet your face and gently massage cleanser all over the face. Rinse thoroughly with water. 
Step 2: Redness Relief Cream - It is a non-greasy and fast-absorbing cream that you can use day or night, for smoothing out and it's a great base for applying make-up.
Considered premium and one of the most exquisite anti aging agents, it's also antiseptic, antibacterial, anti-inflammatory and reduce the redness associated with breakouts.

Considered an OTC skin protectant by FDA, colloidal oatmeal is an effective ingredient for alleviating dryness, itching, and discomfort caused by certain skin conditions.Colloidal oatmeal works as an emollient by adding moisture to the skin. It keeps the skin soft and prevents it from feeling itchy. It can also give relief to irritated skin as it has anti-inflammatory properties that prevent redness and inflammation.

Relieves itching and inflammation, can be helpful in calming a rosacea flare-up.

Hyaluronic Acid is well known for its skin benefits, especially alleviating dry skin, reducing the appearance of fine lines and wrinkles and speeding up wound healing.

Helichrysum essential oil has anti-inflammatory, antifungal, and antibacterial properties that may be useful in healing skin
Keeping your skin hydrated is essential, regardless of skin type, whether you have dry skin or eczema, it is important to focus on locking in the moisture, soothing and nourishing the skin.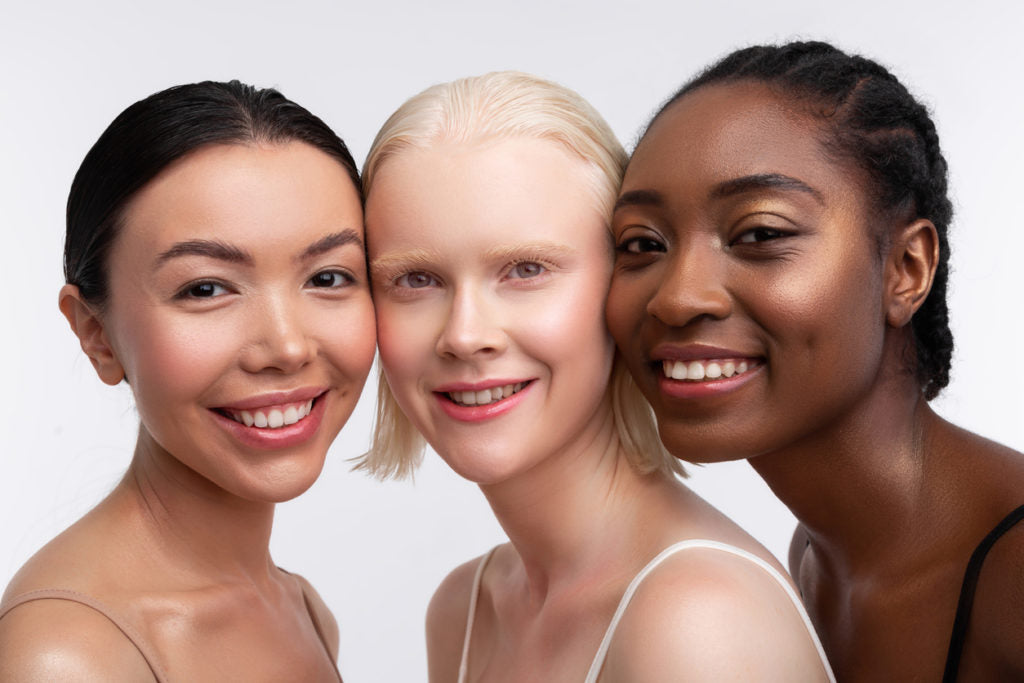 We Formulate Without
At Thena, we say NO to ingredients and processes that
cause harm to ourselves and the environment we live in. It
is our belief that everything we need to make the products
you love can be found in nature.